As mentioned in Strange Horizons magazine: 100 African Writers of SFF: Part Six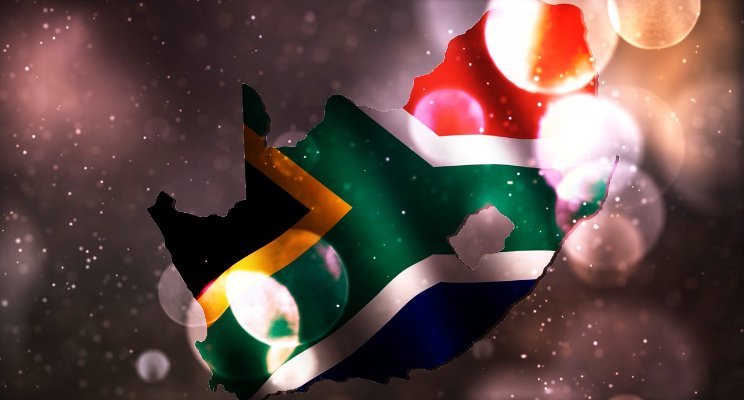 ---
This beautiful country of South Africa has seen much in the way of disaster1, 2 and atrocities3, 4. It is a nation of colour, vivid and diverse, but tainted with the blotches of our history5. Healing is a slow process, hindered by the fear of change and acceptance, and we as South Africans constantly seek mediums through which we can express our discontent in the crippling social matters of the past that yet bleeds through to our present after decades of democracy.
One medium speaks out, its voice growing louder the longer society stifles. Still, in its infancy, science fiction (and speculative fiction in general) struggles to make its voice heard. That is changing. We have seen the reemergence of the genre over the last decade and a burst of interest hitting the public in the recent five years. And why shouldn't it be a major genre? Science fiction, the genre of inspiration and of warning, allows for the critique of social issues and current events within possibilities and solutions. Through it we can escape, not to a utopian fantasy realm, but to hope, understanding, and reason.
It starts, again, in 2009 with the release of District 9. Neill Blomkamp's alien film hit the world with a fury which glimpses at the rage from South Africa's Apartheid era. Packed with not only action but blunt, loud social critique on racism and discrimination, it was a pioneer in New South African science fiction. The success and sentiment are followed shortly by Lauren Beukes in 2011 when she won the prestigious Arthur C. Clarke award for science fiction with her novel Zoo City. From then we started to see a rise of science fiction literature in South Africa.
Over the following five years, several sci-fi authors emerged from the dark, screaming their message through their works. From racism, sexism, and transgender rights, South African science fiction fights for equality and liberty. It pleads and threatens for a society free from persecution, injustice, and discrimination. A voice in the crowd deaf to any genre outside of the dictated . We cannot change the world with our words, but we can change their hearts.
The Authors of Our Future
We South Africans have so much to say, so much to warn about. We see the future of society. We remark on current events, directly and indirectly influencing social discourse. We look to the past and speculate on its future outlook. We are South Africans; rich in story, rich in wisdom, rich in change. At least that is what we wish to accomplish. Through literature, we step closer to reform.
AfroSF is a science fiction anthology of authors across the African continent, catering to speculative fiction as well. It was established in 2012 with the release of the first volume featuring Nnedi Okorafor, S.A. Partridge, Chinelo Onwualu, Nick Wood, Tade Thompson, Cristy Zinn, Ashley Jacobs, Sarah Lotz, and Tendai Huchu. Edited by Ivor W. Hartmann, AfroSF helped break in South African science fiction to the world, followed by the second volume, AfroSF v2 in 2015.
Another major player is the Science-Fiction and Fantasy South Africa club. Established in 1969, it has been a contribution of great influence and to sci-fi authors in SA. SFFSA holds an annual short story competition for SA writers, called the Nova Short Story Competition. Winners of which have their stories published in their long-standing magazine, Probe; a great source of SA sci-fi.
South African science fiction is not quite like any other, involving elements of African technology and medicine, fears and superstitions different from the more widely known Western elements. As such, science fiction in SA often veers into other genres of the speculative fiction range. Our plausible covers a wider spectrum.
South African science fiction veers into other speculative genres; our plausible covers a wider spectrum.
What is African Science Fiction?
Science fiction as a genre is commonly defined as:
"…fiction dealing principally with the impact of actual or imagined science on society or individuals or having a scientific factor as an essential orienting component."6
"…an imagined future, especially about space travel or other planets."7
"…a form of fiction that deals principally with the impact of actual or imagined science upon society or individuals."8
While most of the aspects are relevant to and feature in African science fiction, the standards are lacking and exclusive of the various cultures in Africa and how they influence African technology and society. In sum, science fiction is plausibility within a speculative format.
African sci-fi, however, has a broader sense of what is plausible, often blurring the line between science fiction and fantasy. One could argue that the plausible rests within reality (I.e chemistry, physics, astronomy, etc) but reality comprises psychology, sociology, politics, and philosophy as well, all of which are equally fundamental elements in sci-fi. For many South Africans, the tokoloshe is as much a part of reality as gravity is. Whether or not the creature exists according to physical science is up for debate, but within the social sciences, its existence can be seen much in the same way as we observe dark matter: through its interaction with the observable.
For the instances as above, African science fiction has been broadly classified as speculative fiction; the encompassing genre that includes sci-fi, fantasy, horror, etc. The world is yet to recognize African sci-fi within its ranks of hard or soft (social) science fiction, without the inclusion of sub-genres such as cyberpunk or biopunk as quasi-scientific explanations of the elements considered as fantasy within African fiction.
Because sci-fi, in general, is already difficult to define, African sci-fi struggles to have its voice heard or regarded as "real" science fiction. Among other countries throughout the continent, South African science fiction helps to illuminate the importance of African sci-fi as an aspect of the genre, through fiction markets both local and abroad.
Publications
There is more, another side of the literary tale: the worlds of literary magazines, journals, and anthologies. AfroSF and Probe were mentioned as contributors to SA sci-fi but they are not the only gateways for local emerging and established authors.
AfroSF is an anthology by StoryTime: African Publisher, formed in 2007 to combat the lack of African literary magazines. Another anthology they produced was African Roar, from 2010 to 2014. StoryTime continued in a weekly fiction magazine of the same name.
Probe, the magazine by the Science Fiction and Fantasy South Africa club, being the more established and prolific, has been able to adapt the change of times and technology, releasing their magazine in digital format since 2006.
Something Wicked Magazine, established in 2006 (ending in 2012), curated pieces of science fiction and horror short stories from authors across the globe. It was one of the markets for South African speculative fiction and the entry gate for several local authors.
FIYAH Literary Magazine is a new initiative aimed at promoting African speculative fiction, giving a voice to people of colour in and from Africa. Founded in 2016 and based on FIRE!! Magazine, FIYAH has released a few issues and are working on many more.
Omenana, launched in 2014 with their first issue, is a thriving literary magazine for African authors of speculative fiction in a paying market. With nine issues already published, Omenana opens doors for more sci-fi from South Africa and the entire continent.
Chimurenga is a Pan-African journal of the creative arts platform, promoting the arts in various themed issues since the journal's first publication in 2002. From comics to non-fiction, to literary and genre fiction pieces and poetry, the magazine has published several South Africans and their science fiction along with many large African authors.
JungleJim Fiction was a colourful literary magazine for African speculative fiction. From the release of their first issue in 2013, they have published another twenty-five by 2016, opening the door to local sci-fi authors.
Short Story Day Africa features an anthology of short stories from across the continent, allowing the voices of Africa to tell their tales and opening the door for science fiction and other speculative genres. The non-profit organisation launched its first prize competition in 2013. They have released several anthologies since, featuring South African sci-fi.
PEN South Africa, the local branch of Pen International, while not dedicated to speculative fiction, has published South African science fiction pieces in anthologies comprised from submitted pieces to their literary prizes. The organisation also encourages local talent and authors.
And The Authors?
For a (near) complete list of published South African authors with literature in science fiction, see here. By near, I mean that I may have missed someone. A list of local authors of short and stories published in literary magazines, journals, and anthologies across the world from the last decade with the reemergence of sci-fi in South Africa, can also be found in the above link.
---
With much appreciation and thanks to the African Speculative Fiction Society for their list of African authors.
---
Enjoyed what you read? If so, please consider sending a tip to show appreciation and support an emerging writer in her career.
LiteCoin Address:
LZvTwDEWnqBFsoUfrjSqUdaSuEQJ3yvMB1